My Daughter has been using Amazon Kids+ for well over 2 years now and there seems to be a lack of in-depth reviews. Hopefully this post will help parents make a more informed decision and answer the question - Is Amazon Kids+ worth it?
Is Amazon Kids+ Worth It?
In a nutshell, yes its half decent. It's not perfect, but with well over a year of my daughter using it, coupled with myself sat down playing games and reading books with her. It deserves a try at the very least.
Things I like about Amazon Kids+
There's a vast amount of games, books and videos / movies to choose from.
The parental controls are very good and easy to setup. You can easily set time limits on the device or using your phone or web browser. You don't need to be near the tablet to do this which is great, especially if your kids are away with the grandparents etc.
It holds my daughters attention, which makes it perfect for journeys in the car and plane or just when you both need some time to relax (or to get some household chores done!).
It's easy to use for both kids and adults, although some elements could be improved upon.
You don't need to worry about intrusive adverts or shady games trying to trick your kids into clicking things they don't need to.
Its available on multiple devices: Fire Devices, Kindle, iPhone and iPad and Android.
Things I don't like about Amazon Kids+
With such a wide selection of apps and games to download, device storage fills up fast. You'll most likely need to add additional storage, such as a micro SD card.
Depending on the device you use, it will inevitably become sluggish and slow down with all the games installed on it. 2023 Update! The Fire HD tablet my daughter uses is still going strong. It's not quick, but it's also not slow. The passage of time and eventual filling up of the storage doesn't seem to have brought it to it's knees - not just yet!
The way things are categorised often doesn't make it easy to find a certain game or video. You'll need to use the search function to find it. Depending on your kids age this might be a problem. As my daughter has got older and her reading and writing skills have improved, its since been easier to find things.
There has been a recent price increase. See more below.
Is Amazon Kids+ Worth The Money?
My daughter was given a Fire HD 10 Kids Tablet as a gift which came with Amazon Kids+ pre installed. At the time the offer was for a 1 year free subscription and then £1.99 per month there after.
At near enough £24 a year. I can honestly say this its well worth it at that price. However recently, new pricing has been announced. Prime members now need to pay £3.99 per month or they can opt for a yearly plan at £38 per year.
Obviously a price increase is not normally welcomed by parents, myself included. I had to ask myself 2 questions to decide if it was worth paying for still:
Would my daughter be upset if i told her she can't use it anymore?
Does my daughter use it enought to justifiy the cost?
The answer was "Yes" to both the questions. I think at £3.99 per month, its at the top of what I'm willing to pay, however It's still worth it in my opinion.
Parental Controls in Amazon Kids Plus
As I mentioned, the parental controls are really good and easy to use. You can set how long your kids can play with device and you can even restrict different sections, such as games and video until certain criteria have been met.
E.g. you can make it so that they can only play on games or watch movies after they've done 15 minutes of readings books first.
Controls like this make it really powerful and can help your children reach learning goals you set for them.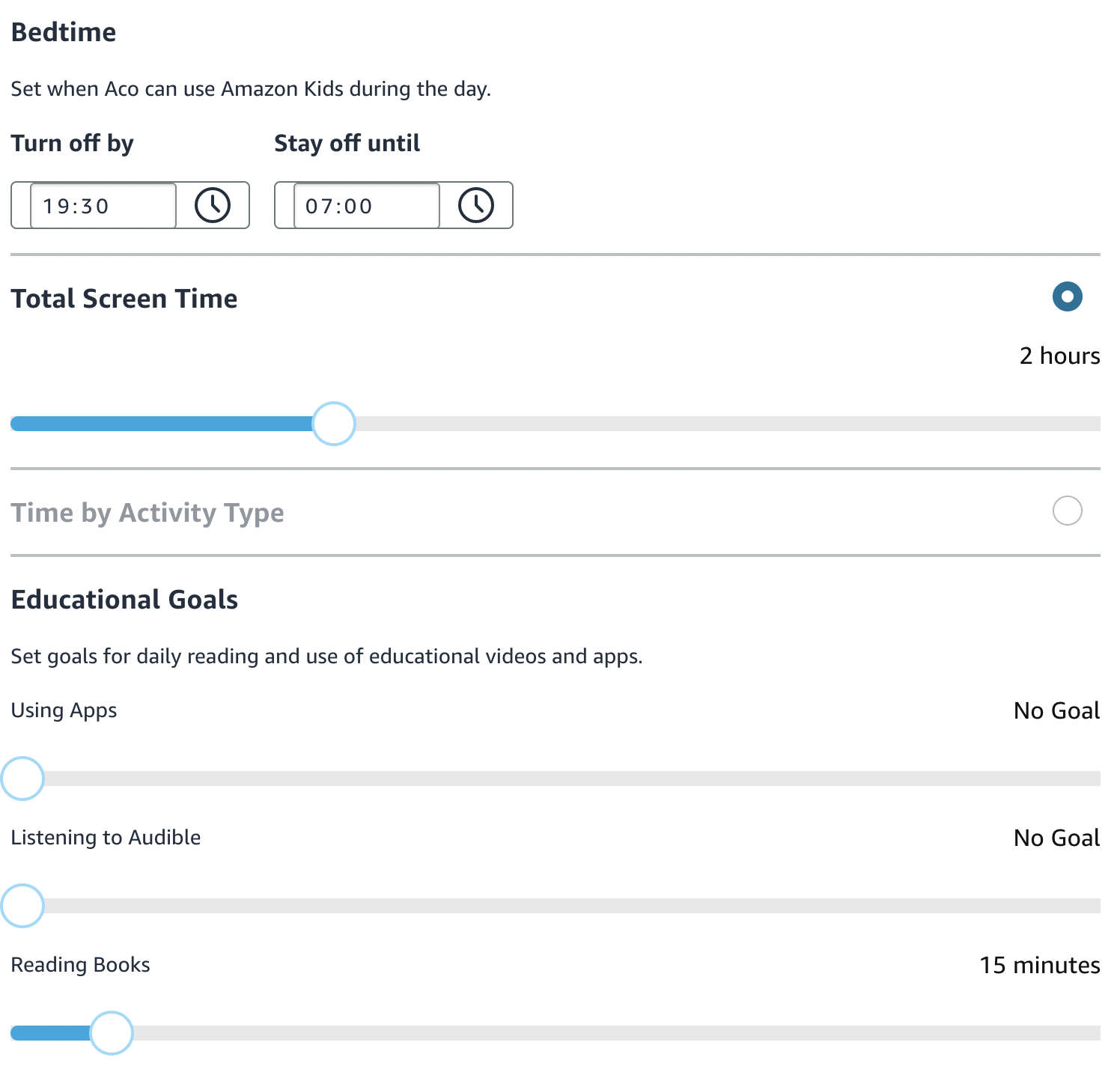 Parents Dashboard
Another nice feature is the Parents Dashboard. At a glance you can see the most recently used apps and also the breakdown and usage of each category (Apps, books, videos, web, music, Audible) etc. You can also click into each category and get a detailed list of time spent and what exactly your child has been doing on the app.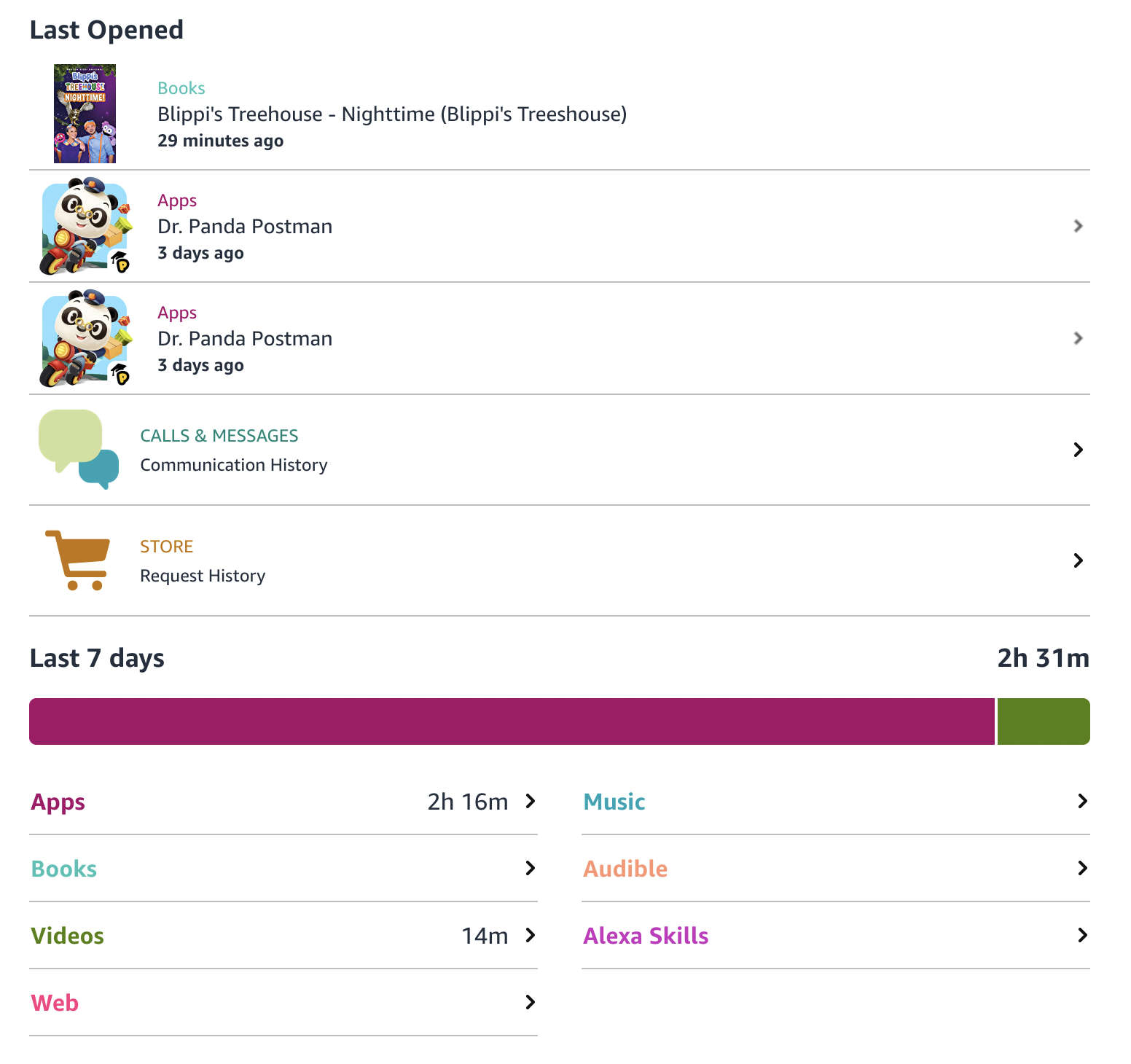 Ads and shady tactics - Or a lack of!
If you've got kids, you've probably had to install some game they like on your mobile phone. Most of the time, they have adverts in very inconvenient places or encourage clicking on things which end up costing you money.
I'm pleased to say that this is almost non existant. One of the key features of Amazon Kids+ is that the apps and games must be ad-free. I've never come across an advert whilst using her Fire HD 10 Kids Tablet.
There has been perhaps a few games where they've asked for permission to access the devices storage folder or where its been a "pay to win" game which has opened up a popup asking to purchase things. However If you enable a password or pin code this should stop these types of thing. Or alternatively you can disable the store altogether.
Overall it's a really good effort in curbing the adverts. You shouldn't need to worry about racking up insane bills or your kids viewing stuff they shouldn't.
Can you watch YouTube on Amazon Kids+?
Yes and no. As far as I'm aware, there isn't an official app you can use. There are plenty of YouTube-like ones, but I wouldn't trust my login details with these. The app itself does show videos from YouTube, but its very locked down. You wouldn't be able to search for anything on YouTube from it and you can't pick what videos it shows. You can however, switch profiles. If you are using a Fire HD tablet, this is still a tablet, albeit with its own custom version of Android. You can switch from the childs profile and back to the standard user / parents profile which gives you full access to the tablet. You can watch YouTube via the Silk browser, which should suffice.
If your child is a bit older and more responsible, you can enable the web browser via the kids app and then you can control what websites they can view via the parental controls. So you have options, but don't expect a full official YouTube app experience. Which in most cases is probably a good thing.
If you feel like giving Amazon Kids+ a try, click this link or the banner below to get started.